Challenging the status quo; the emergence of a new type of business
06/09/2022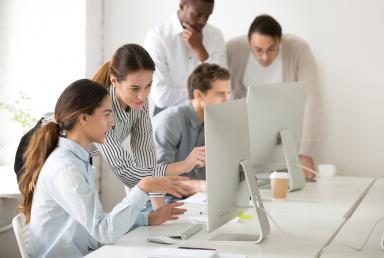 The value of supporting early in careers
06/09/2022
As part of Ultima's Innovation Month throughout July, we were delighted to run our very first Hackathon. With innovation at the heart of our industry and business, this hackathon was a great opportunity for the creation of future-ready solutions that could guide the future of Ultima and Just After Midnight. Our very own Ultima Labs was created from the identification of a key challenge businesses were facing so we saw this as a great opportunity to invest in our future.
We invited all of our Professional & Managed Services teams to participate, giving them a week to work in teams to develop ideas and concepts of solutions the business could create to fulfil a gap in the market and solve a customer challenge. These teams consisted of members across different countries with some of the Just After Midnight team being based in Australia.
This gave some of our technically minded individuals a great platform to voice their ideas to our Senior Leadership team and drive future career development. As we had members across different time zones, participants were asked to pre-record their final presentation to ensure that all participants could be involved. Members of the board including Scott Dodds (CEO), Tamsin Ashmore (CFO) and Geoff Hardwick (Services Director) then reviewed and discussed all presentations and ideas before selecting the winning team.
We appreciate all the hard work that went into this and look forward to sharing the potential of of these new solutions. Keep an eye on our social media channels as we look at running a Hackathon Part 2, during which we will ask the teams to code some the solutions and ideas that were created off the back of this.
Find out how the Ultima and Just After Midnight Team found the Hackathon below:
Andrew McCullough, Solutions Architect at Ultima
Ultima have always been very focused on innovation, from the top of the business to the bottom. There is always the ability for anyone to come up with the next great thing – new products and services or smarter ways to solve customer problems. Innovation starts with people, and the Ultima Hackathon provided a great opportunity to get some really smart people who work at the coalface of cutting-edge technology to explore the art of the possible together.
Dennis Goedegebuure, Senior Technical Consultant at Ultima
Although working with the JAM Australia team caused new challenges due to different time zones it was great to meet and get to know different people as well as collaborate across different businesses. As we had our calls before the workday started, I kept saying good morning in our meetings forgetting it was evening for them!
Chris Martyn, Solutions Architect at Just After Midnight
My team based our ideas around innovation on what would have a real impact and help people's daily lives. I really enjoyed meeting and getting to know a few of the team from Ultima and learning more about what they do (shout out to Dennis and Megan!)- I wish we had more time to collaborate! Whilst our time was brief, I enjoyed chatting to them and sharing ideas.
We're passionate about driving innovation in the workplace- to hear some of our employees' top predictions for innovation trends over the next year, click here.