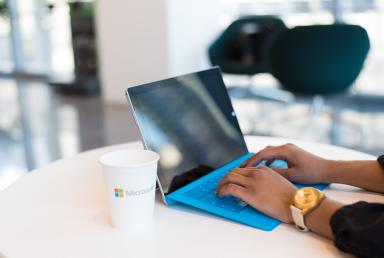 Microsoft Monthly Newsletter – July
18/07/2021
Microsoft FastTrack: Facilitating your seamless migration to the cloud
23/07/2021
As the proliferation of IoT devices increases and the threat landscape becomes increasingly complex, organisations need to re-evaluate their strategies. Although cybersecurity is top of many agendas, there is often oversight when it comes to physical security practices. Businesses need a comprehensive approach to physical and cyber security to defend against today's advanced threats.
Physical security protects cybersecurity by limiting who has access to spaces where data is stored, and vice versa. Physical security components connected to the internet- such as card door locks or surveillance cameras are common targets for hackers. Physical and IT security convergence addresses the interconnected nature of these components and treats them as one rather than as separate business entities.
Key benefits of a converged strategy:
– Security convergence results in faster incident response, which mitigates risks and prevents threats as they are happening
– Remote access for physical security saves time, reduces IT burden and improves the user experience
– Security training can be costly and time-consuming, however by selecting intuitive, cloud-based software, this will result in less onboarding, recurring training, and easier deployment
– Your technology is only as secure as the latest update. Bringing physical security and cybersecurity together makes it easier to identify and mitigate evolving vulnerabilities. Over-the-air software updates eliminate expensive upgrades and maintenance and ensure you have the latest features and security updates.
So, what next?
Meraki was built on the premise that powerful security shouldn't be complicated. Their portfolio of solutions simplify security across every layer of your network. Alongside integrated security solutions, Meraki's product range of IOT devices including smart camera and sensors have been built to be simple to deploy, cloud-managed, and customisable to your needs, enabling you to simply deploy a converged security strategy in your business.
For example, the Meraki MT Environmental Sensors provide remote monitoring and flexible alerting, enabling you to understand trends about your physical environment via data-driven intelligence and say goodbye to on-premises servers, dedicated gateways, and management software, instead utilising the power of the Cisco Meraki Platform.
Similarly, the MV family of smart cameras provide reliable security and valuable business insights with centralised cloud management. MV utilises a powerful onboard processor to analyse video and provide valuable insights without the need to send those video files to the cloud or a local server.
Example use cases:
Meraki have seen a huge increase in the number of healthcare providers reaching out for support in navigating various challenges. Smart cameras and environment sensors can perform tasks such as remote patient monitoring, detecting PPE and managing occupancy levels, providing healthcare organisations with real-time information that can be accessed from anywhere and guide critical decision-making.
Occupancy analytics provided by the MV smart camera portfolio can provide visibility into how workspaces are being used- including desk and meeting room-level data, to help organisations safely navigate their return to the office.
The simplicity of Meraki devices and the power of the Meraki platform offer the flexibility and future-proofing required to meet the needs of organisations, both now and for whatever comes next.
To find out how these solutions could help your organisation, contact us today.
Ultima's Cisco Partnership
With over 20 years of experience as a Premier Partner of the world's leading network vendor, Ultima has the skills and experience to help our customers meet the demands of mobility, collaboration and cloud computing. In addition to being able to sell the full Cisco portfolio, we also offer a broad range of Professional & Managed Services for Cisco environments from our 24×7 Technical Support Centre.